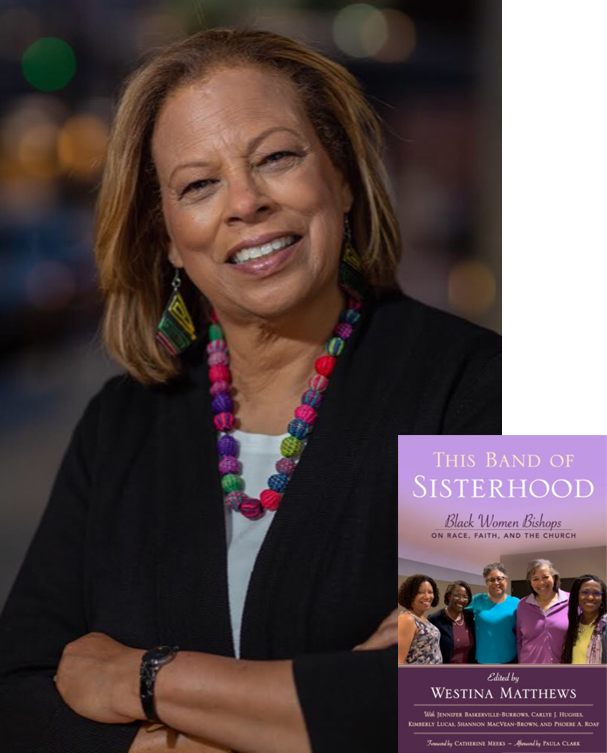 WESTINA MATTHEWS
Writer | Teacher | Speaker | Retreat Leader
For over 35 years, Westina Matthews has turned her passion and creativity into realities for so many in the community at large. In 2009, Westina retired from Merrill Lynch with the title of managing director which reflected her progressive responsibilities, including philanthropy, global diversity, community development and business development. Upon her retirement, she was a Fellow at the Weatherhead Center for International Affairs at Harvard University where she researched women and girls in Burundi in east-central Africa. She then joined the Jackie Robinson Foundation for four years as vice president, chief program officer.
Committed to leadership by example, Westina is or has served on the boards of over 35 not-for-profit organizations, seminaries, colleges, and universities, including: Gathering of Leaders; Shalem Institute for Spiritual Formation; International Women's Forum; Women's Forum of New York (past president); Executive Leadership Council; University of Dayton; Bank Street College of Education; Wilberforce University; Berkeley Divinity School at Yale; Trinity Church Wall Street; and New York Theological Seminary.
Westina has contributed to several Forward Movement anthologies, including A Year of Daily Meditations (2011, 2014, 2015, 2016) and Wisdom Found: Stories of Women Transfigured by Faith (2011). She also was a frequent contributor to Sacred Journey:The Journal of Fellowship in Faith. She is the author of three books in the Have A Little Faith Series (2003, 2004, 2005) and Dancing from the Inside Out: Grace-filled Reflections on Growing Older (2019). Her newest book is This Band of Sisterhood: Black Women Bishops on Race, Faith, and the Church (2021).
A graduate of the spiritual guidance program at the Shalem Institute for Spiritual Formation, for the past ten years, Westina has been an adjunct professor at General Theological Seminary in the Center for Christian Spirituality where she teaches contemplative spiritual direction.
Westina earned B.S. and M.S. degrees in education at the University of Dayton, a PhD in education from the University of Chicago, and served as a postdoctoral research fellow at both Northwestern University and the University of Wisconsin at Madison.
Engagements
Westina leads several different types of workshops, adult forums, and retreats. She also is a lecturer and lay preacher.
Topics Include:
Dancing from the Inside Out

Mr. Rogers, God, and You: A Simple Faith

Henri Nouwen, God, and You: Deepening Your Personal Spiritual Life

What Is Mine to Do?

A Season of Promise (Howard Thurman)

With Open Hands (Henri Nouwen)

Treasure Mapping: A Mindful and Soulful Journey

Serenity and Peace in Times of Uncertainty

Deepening Your Personal Spiritual Life

For Women Fully Grown
Courses Taught:
Introduction to Contemplative Spiritual Direction

Contemplative Spiritual Practices

Supervision of Contemplative Individual and Group Spiritual Direction

Offering Online Contemplative Workshops, Retreats, Forums

A Contemplative Approach to Spirituality and Sexuality
General Theological Seminary

Beecken Center of the School of Theology at the University of the South

Mepkin Abbey, Moncks Corner, SC

Transfiguration Spirituality Center, Cincinnati, OH

University of North Georgia Institute for Healthy Aging

Spiritual Directors International 2021 Conference

The Leverage Network Conference

Christian Formation Kanuga Conference

Forma21 Conference

ChurchNext

Alpha Kappa Alpha, Great Lakes Regional Leadership Institute

Diocese of Pennsylvania

Diocese of Long Island
The Church of Heavenly Rest, NY, NY

First Presbyterian Church, NY, NY

Saint Michael's Episcopal Church, Bristol, RI

Saint Stephen's Episcopal Church, Birmingham, AL

St. Ambrose Episcopal Church, Raleigh, NC

St. James' Episcopal Church, Houston, TX

St. Peter's Episcopal Church, Savannah, GA

St. Martin-in-the-Fields Episcopal Church, Philadelphia, PA

St. Michael's Episcopal Church, Colorado Springs, PA

Trinity Church Wall Street, NY, NY