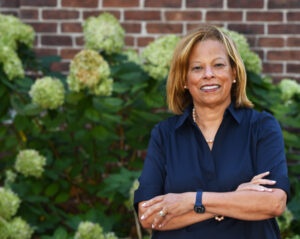 Meet Westina
Westina Matthews, PhD is an author, a public speaker, retreat leader, and theologian. Through her thoughtful, poignant, humorous, and authentic writings, she has found a way to connect with audiences around the world. An adjunct professor at The General Theological Seminary in the Center for Christian Spirituality where she teaches contemplative spiritual direction, Westina's practice reflects contemplative living through "holy listening."
Her most recent books are Dancing from the Inside Out: Grace-Filled Reflections on Growing Older (2019) in which the nuances and everyday marvels of maturing are explored; and This Band of Sisterhood: Black Women Bishops on Race, Faith, and the Church (2021) a candid, unrehearsed, engaging conversation with the five current Black women Episcopal diocesan bishops set against the backdrop of the pandemic, racial unrest, and presidential election.
After living and writing in New York City for more than 30 years, she is now writing along the banks of the
Wilmington River in Savannah, Georgia.
Westina leads several different types workshops, adult forums,
and retreats. She also is a lecturer and lay preacher.